Turtle Wall - Red Cliffs Desert Reserve
Difficulty Level: Easy
Distance: 2.08 miles (from Chuckwalla Trail - 4.08 miles total)
TRAIL SUMMARY
Turtle Wall is a popular trail that offers amazing scenery without having to drive far.  Great for kids and all hikers, the single dirt path has an open view and follows rock formations to connect the Chuckwalla trail to Paradise Rim.  The trail is well maintained and relatively flat with a slight elevation just before the turnaround point.  At the turnaround point, the trail hits Paradise Rim trail to reveal a stunning view over Entrada and Ivins.  Bikers also enjoy Turtle Wall trail and share the path often at the beginning of the trail.  The trail's open view helps to notice any approaching bikers.  There is almost no shade which makes it a hike for the morning or evening accompanied with water.  Like most trails in the Red Cliffs Desert Reserve, Turtle Wall is dog friendly and is a great place to walk a dog under the guidelines.  The round trip distance of 2.08 miles (from Chuckwalla Trail – 4.08 miles total) makes it a quick and fun hike for all with a great view.
TRAIL DETAILS
ROUND TRIP LENGTH
2.08 miles (from Chuckwalla Trail - 4.08 miles total)
PROPERTY MANAGEMENT
Red Cliffs Desert Reserve
DISTANCE FROM ST GEORGE
4.3 Miles (9 mins driving)
RESTROOM FACILITIES
Vault Toilets at Trailhead
BEST TIME OF THE YEAR TO HIKE
Spring, Fall, Winter
BEST TIME OF THE DAY TO HIKE
Morning, Evening
PERMIT INFORMATION
No Permit Required
WATER SOURCES AVAILABLE
No Water Sources Available
CAMP SITES
No Camping Available on Trail
TRAIL CONDITIONS
Dirt Single Track
SUN EXPOSURE
Full Sun Exposure
DIRECTIONS TO TRAILHEAD
Directions to parking at Trailhead.  Walking directions to Trailhead via Chuckwalla Trail.  Trailhead is accessed through Chuckwalla Climbing Area.  These directions lead to the parking lot at Chuckwalla, then, direct to Turtle Wall Trailhead via Chuckwalla Trail.
From St George, head north on Bluff Street.  Keep right towards Enterprise and continue straight as road turns into Hwy 18.  In 0.1 miles, immediately take the first left turn onto Country Rd and park.  After parking, follow Chuckwalla Trail for 1 mile (about 15 minutes) until Chuckwalla Trail ends at the junction between Turtle Wall and Beck Hill.  Turtle Wall Trail begins with the path on the left and is well marked.
FLORA AND FAUNA
Plants: Typical plant life for Southern Utah lowland hiking.
Animals: Typical animal life for Southern Utah lowland hiking.
TRAIL REPORT
Titled after a rock formation resembling a turtle in its shell, the hike climbs up red rocks and into desert tortoise territory.  These tortoises, accompanied with many other wildlife, are often sighted along the trail and provide a great feeling of being within nature.  Turtle Wall trail showcases great scenery without having to leave far from St. George.  Hikers often enjoy exploring a popular arch located towards the start of the trail.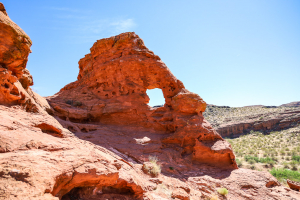 Arches in Southern Utah are somewhat common, but the arch along Turtle Wall is unique.  Its size and formation make the arch a rare sight.  This arch is especially beautiful at sunset.
The trail is slightly rocky along small drop-offs making it an okay place to walk a dog with a leash.  It is usually hiked as part of a loop connecting the Chuckwalla, Paradise Rim, and Halfway Wash trails with clear signs that mark the junctions.  Other loop options are available.  This area does not have a place to refill water but there are vault toilets found at the parking lot.  In short, Turtle Wall is a great hike for everyone.
ABOUT THE AUTHOR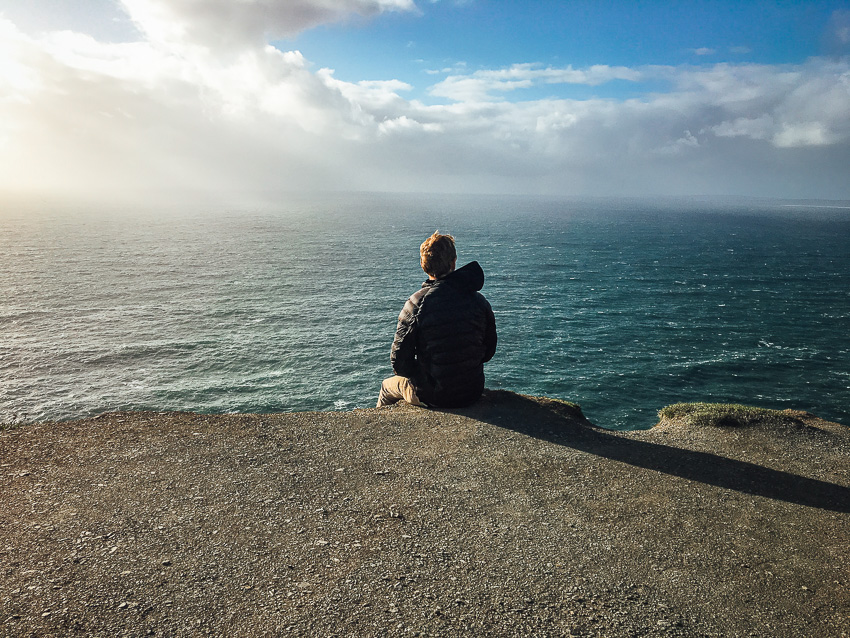 Spencer McMullin
Spencer McMullin is originally from Connecticut but has deep ties to the Southern Utah area.  His passion for adventure and photography has lead him to HikeStGeorge.