East Mesa Trail To Observation Point - Zion National Park
Difficulty Level: Moderate
Distance: 6.6 miles round trip
TRAIL SUMMARY
East Mesa Trail is a subtle and quiet hike that takes you through an isolated ponderosa pine forest on the upper east side of Zion with big payoffs at the end. The views from Observation Point are some of the best in Zion National Park. Most visitors hike the strenuous 8-mile Observation Point Trail to experience these epic views, completely unaware that East Mesa Trail offers a much less crowded route that is not as long and not nearly as strenuous.
TRAIL DETAILS
DIFFICULTY LEVEL
Moderate
ROUND TRIP LENGTH
6.6 miles round trip
PROPERTY MANAGEMENT
BLM, Zion National Park
DISTANCE FROM ST GEORGE
1 hour 44 minutes
RESTROOM FACILITIES
No Restroom Available
BEST TIME OF THE YEAR TO HIKE
Spring, Summer, Fall
BEST TIME OF THE DAY TO HIKE
Any Time
PERMIT INFORMATION
No Permit Required
WATER SOURCES AVAILABLE
No Water Sources Available
CAMP SITES
Camping Available only in Designated Camping Area
TRAIL CONDITIONS
Dirt Single Track
SUN EXPOSURE
Full Sun Exposure
DIRECTIONS TO TRAILHEAD
Directions to trailhead From St George, head north on I-15 for about 18 miles and take exit 27 to Toquerville. Turn right on UT-17 and follow it for 6 miles. Turn left onto UT-9 and follow it for approximately 20 miles until you come to the park entrance. From the entrance you will take Route 9 13.7 miles. You will turn left onto N Fork County Rd 5.2 miles. Turn left .5 miles. Continue onto Pine Angle Rd/Twin Knolls Rd .2 miles. Continue straight .5 miles. Continue onto Twill Knoll Rd .3 miles. Turn right onto Beaver Rd 1.2 miles. Turn right onto Rocky Rd .1 mile. Rocky Rd turns left and becomes Fir Rd. Trailhead will be on the left.
If you are driving after a rainstorm or in the winter/spring the road may be very muddy or icy and impassible in a regular car. Park and walk the remainder of the road or hire a service to take you there at Zion Ponderosa or at one of the outfitters in Springdale. You can also call the Zion Ponderosa front dest and ask how the road conditions are.
FLORA AND FAUNA
Plants: Typical plant life for Southern Utah lowland hiking.
Animals: Typical animal life for Southern Utah lowland hiking.
TRAIL REPORT
Much of the trail is through a ponderosa pine forest. It is sandy and a bit rocky. It is beautiful but it does get a little monotonous because the scenery doesn't change much. Keep going, the views at the end are more than worth it. About 1 mile from Observation Point you will start to see views and the trail gets a little more interesting and enjoyable. At Observation Point make sure you look down the canyon and you will be able to see the famous Angels Landing Trail. It is so cool seeing the Angels Landing trail from above.
ABOUT THE AUTHOR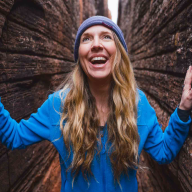 Arika Bauer
Arika Bauer is a Southern Utah local, born and raised, and the owner of Zion Adventure Photog, a photography business dedicated to photographing world travelers, outdoor lovers, and adventure junkies in one of the most beautiful settings in the world. She has made it her mission to explore all of the hidden, and not-so-hidden gems of Southern Utah, with her husband and three kids, and shares about different adventures in Southern Utah on her blog. You can also connect with her on Facebook and Instagram.