Lower Pine Creek Falls - Zion National Park
Difficulty Level: Moderate
Distance: .7 miles round trip
TRAIL SUMMARY
The Lower Pine Creek Falls Trail is one of those rare hikes in Zion National Park that is not advertised by the park. Because of this, your chances of having the place all to yourself on a Saturday morning in the middle of the summer are pretty good. The picturesque pond and 15-foot waterfall may take some stream hopping and boulder climbing to get to, but once you are there, you may never want to leave.
TRAIL DETAILS
DIFFICULTY LEVEL
Moderate
ROUND TRIP LENGTH
.7 miles round trip
AVERAGE HIKE TIME
Need to add info
PROPERTY MANAGEMENT
Zion National Park
DISTANCE FROM ST GEORGE
43 Miles (1 hour driving)
RESTROOM FACILITIES
No Restroom Available
BEST TIME OF THE YEAR TO HIKE
Spring, Summer, Fall
BEST TIME OF THE DAY TO HIKE
Any Time
PERMIT INFORMATION
No Permit Required
WATER SOURCES AVAILABLE
Stream/River Along Trail (Purify & Filter Before Drinking)
CAMP SITES
No Camping Available on Trail, Camping Available only in Designated Camping Area
TRAIL CONDITIONS
Dirt Single Track, Sandy, Rocky, Stream/River
SUN EXPOSURE
Partial Sun Exposure
DIRECTIONS TO TRAILHEAD
Get Directions to Trailhead. From St George, head north on I-15 for about 18 miles and take exit 27 to Toquerville. Turn right on UT-17 and follow it for 6 miles. Turn left onto UT-9 and follow it for approximately 20 miles until you come to the park entrance. From the entrance drive 1.5 miles north on Route 9. Just before you start rounding to go up the series of switchbacks that take you up to the Carmel Tunnel, pull over to a small paved parking area to your left. If you go over a bridge, you have gone too far.
Note: Parking in this area during the busy season is limited, so you may have to park along the road and walk to the trailhead.
FLORA AND FAUNA
Plants: Typical plant life for Southern Utah lowland hiking.
Animals: Typical animal life for Southern Utah lowland hiking.
TRAIL REPORT
This trail starts out as an easy to follow dirt trail. As you get further into the canyon, you will need to cross the stream a few times, and the trail becomes less defined. You may have to do some exploring to make sure you are on the right path. If you come to a dead end just turn back and try another path. At the first small pool, the path gets a little tricky. We like to climb up the rock wall on the right-hand side. Look for stacked boulders to help you scale the rock. Follow the rock wall until you have to cross the stream again. You will then do a little more climbing up and through rocks. At the pool at the end, there is a nice sandy beach that is perfect to sit and rest, enjoy the waterfall and eat some lunch….enjoy!
ABOUT THE AUTHOR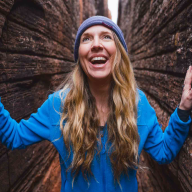 Arika Bauer
Arika Bauer is a Southern Utah local, born and raised, and the owner of Zion Adventure Photog, a photography business dedicated to photographing world travelers, outdoor lovers, and adventure junkies in one of the most beautiful settings in the world. She has made it her mission to explore all of the hidden, and not-so-hidden gems of Southern Utah, with her husband and three kids, and shares about different adventures in Southern Utah on her blog. You can also connect with her on Facebook and Instagram.