Left Fork North Creek - The Subway Bottom Up - Zion National Park
Difficulty Level: Strenuous
Distance: 8 miles round-rip
TRAIL SUMMARY
The Subway is one of those trails that starts out just ok, but with every step you take, it gets better and better. By the time you reach the pools at the end, you feel like you have entered a whole new world. You will constantly be going up, down, over and around rocks and boulders as you follow the Left Fork of North Creek up the stream to The Subway. Permits are required to hike this trail.
TRAIL DETAILS
DIFFICULTY LEVEL
Strenuous
ROUND TRIP LENGTH
8 miles round-rip
PROPERTY MANAGEMENT
Zion National Park
DISTANCE FROM ST GEORGE
35 miles (50 mins driving)
RESTROOM FACILITIES
Vault Toilets at Trailhead
BEST TIME OF THE YEAR TO HIKE
Spring, Summer, Fall
BEST TIME OF THE DAY TO HIKE
Any Time
PERMIT INFORMATION
Permit Required
COST
$5 permit application fee.
Permit Cost:
$15.00 – 1-2 people
$20.00 – 3-7 people
$25.00 – 8-12 people
WATER SOURCES AVAILABLE
Stream/River Along Trail (Purify & Filter Before Drinking)
CAMP SITES
No Camping Available on Trail, Camping Available only in Designated Camping Area
TRAIL CONDITIONS
Dirt Single Track, Sandy, Rocky, Stream/River
SUN EXPOSURE
Partial Sun Exposure
DIRECTIONS TO TRAILHEAD
Get Directions to Trailhead From St George, head north on I-15 for about 18 miles and take exit 27 to Toquerville. Turn right on UT-17 and follow it for 6 miles. Turn left onto UT-9 and follow it for approximately 6.3 miles. Turn left onto Kolob Terrace Rd and follow it 7.4 miles. Turn right into the parking lot for Left Fork Trailhead.
FLORA AND FAUNA
Plants: Typical plant life for Southern Utah lowland hiking.
Animals: Typical animal life for Southern Utah lowland hiking.
TRAIL REPORT
Hiking The Subway from the bottom means that you do not have to do any repelling to get to the beautiful blue-green pools of water known as The Subway, it does not mean that you are starting at a low point. From the parking lot, you will take a nicely maintained trail about 1/2 mile through a juniper and pinion forest. Things start to get interesting when that trail turns into a steep and rocky descent. Once you reach the bottom, you will take the Left Fork of North Creek stream and follow that all the way to The Subway. The trail is rocky and unclear in many spots. You just have to pick a side of the stream and go back and forth as you make your way up. As long as you follow the stream you will not get lost.
It took my husband and I six and a half hours to complete the hike. We started at 12 pm and were finished by 6:30 pm. We did this hike in September, and it was so nice not having the sun beating down on us during the final climb up. We are in decent shape (not great). We walked pretty fast and had time for frequent photo stops. We only took about 15 minutes at the pools at the end since the wind was really intense in The Subway and we were a little nervous about getting back before dark. In hind site, I wish we would have stayed a little longer at the pools.
ABOUT THE AUTHOR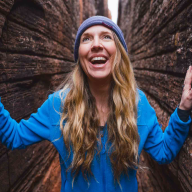 Arika Bauer
Arika Bauer is a Southern Utah local, born and raised, and the owner of Zion Adventure Photog, a photography business dedicated to photographing world travelers, outdoor lovers, and adventure junkies in one of the most beautiful settings in the world. She has made it her mission to explore all of the hidden, and not-so-hidden gems of Southern Utah, with her husband and three kids, and shares about different adventures in Southern Utah on her blog. You can also connect with her on Facebook and Instagram.