Cinder Cone Trail
Difficulty Level: Moderate
Distance: 1.9 miles round trip
TRAIL SUMMARY
The Cinder Cone trail is a steep and short hike up to the top of one of the ancient volcanos in Southern Utah. With beautiful views of Snow Canyon and Dammeron Valley the trail has 500 feet of elevation and can be quite slippery. Once at the top you can hike down into the crater and check out a small rock fort and rock wall.
TRAIL DETAILS
DIFFICULTY LEVEL
Moderate
ROUND TRIP LENGTH
1.9 miles round trip
PROPERTY MANAGEMENT
Red Cliffs Desert Reserve, Snow Canyon State Park
DISTANCE FROM ST GEORGE
12.4 Miles (16 mins driving)
RESTROOM FACILITIES
No Restroom Available
BEST TIME OF THE YEAR TO HIKE
Spring, Fall, Winter
BEST TIME OF THE DAY TO HIKE
Morning, Afternoon, Evening
PERMIT INFORMATION
No Permit Required
WATER SOURCES AVAILABLE
No Water Sources Available
CAMP SITES
No Camping Available on Trail
TRAIL CONDITIONS
Dirt Single Track, Rocky
SUN EXPOSURE
Full Sun Exposure
DIRECTIONS TO TRAILHEAD
Directions to trailhead. From St George take Bluff Street North 11 miles. You will come to a small parking area on the east side of the road. From here the trail is well marked.
FLORA AND FAUNA
Plants: Typical plant life for Southern Utah lowland hiking.
Animals: Typical animal life for Southern Utah lowland hiking.
TRAIL REPORT
We hiked Cinder Cone Trail on a cloudy and cold day in January. From pictures I have seen online, the trail is a little more picturesque in the warmer month with greenery lining the edges of the cinder cone but it was a great hike to do in the winter and the views from the top were stunning. The trail is gravely and steep. Even with good hiking boots my husband and I were slipping and sliding. Hiking poles would be a great thing to bring to help with your footing and save your knees on the way back down.
ABOUT THE AUTHOR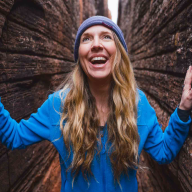 Arika Bauer
Arika Bauer is a Southern Utah local, born and raised, and the owner of Zion Adventure Photog, a photography business dedicated to photographing world travelers, outdoor lovers, and adventure junkies in one of the most beautiful settings in the world. She has made it her mission to explore all of the hidden, and not-so-hidden gems of Southern Utah, with her husband and three kids, and shares about different adventures in Southern Utah on her blog. You can also connect with her on Facebook and Instagram.