OWEN'S LOOP TRAIL VIA BROOKS NATURE TRAIL
Difficulty Level: Moderate
Distance: 2.61 miles
TRAIL SUMMARY
Owen's Loop is a fantastic little single track hike that provides incredible views of St. George, Santa Clara, and Ivins. It is a well maintained single track trail that meanders along the cliff side of the Red Hill and loops around to give you a nice view of Red Hills Golf Course. Most people don't even know this trail exists so you can enjoy it pretty much by yourself!
TRAIL DETAILS
DIFFICULTY LEVEL
Moderate
ROUND TRIP LENGTH
2.61 miles
AVERAGE HIKE TIME
1-2 hours
PROPERTY MANAGEMENT
BLM, Red Cliffs Desert Reserve
DISTANCE FROM ST GEORGE
Located downtown St George
RESTROOM FACILITIES
No Restroom Available
DOGS ALLOWED
Yes, on 6 ft leash
BEST TIME OF THE YEAR TO HIKE
Spring, Fall, Winter
BEST TIME OF THE DAY TO HIKE
Morning, Afternoon, Evening
PERMIT INFORMATION
No Permit Required
WATER SOURCES AVAILABLE
No Water Sources Available
CAMP SITES
No Camping Available on Trail
TRAIL CONDITIONS
Dirt Single Track
SUN EXPOSURE
Full Sun Exposure
DIRECTIONS TO TRAILHEAD
Directions to Trailhead. From 1-15 Exit 8, turn west on St. George Boulevard. Immediately turn right at the first traffic light onto 1000 E. Turn left onto Red Hills Parkway. Continue 1.2 miles on the parkway. Turn left onto Skyline Drive and then your first right onto Hope Street. At the traffic circle take the first exit heading north on Main Street. In 300 ft you will see a park on your right (Brooks Nature Park). Hike up Brooks Nature Trail and you will meet up with Owen's Loop Trail.
FLORA AND FAUNA
Plants: Typical plant life for Southern Utah lowland hiking.
Animals: Typical animal life for Southern Utah lowland hiking.
TRAIL REPORT
Before I started looking for it, I didn't even know Owen's Loop existed! This is one of those hikes that just wasn't on my radar. I discovered its existence in a booklet written by a St George native that had done a lot of hiking in the area and wanted to document some of it. I grew up playing on the Sugar Loaf area of the 'Red Hill', but didn't know there were trails on the other side of the highway that would provide such amazing views and solitude 500 ft above the valley floor.
Since they reorganized the roadway on Red Hills Parkway it is easier to get to Owen's Loop from Brooks Nature Trail. It is a nice place to start anyway, because you can park your vehicle at a secluded park and feel like it will be safe. I don't typically like to hike alone, and I don't recommend it to anyone else, but I felt pretty safe doing it on this hike because I knew that I was close enough to civilization that my phone service wouldn't be an issue, and if I had to crawl somewhere it wouldn't be too far. So, I exited the truck and headed up the trail, past the pond where the ducks quacked a good morning to me, and past the amphitheater where scouts like to do Courts of Honor or Pack Meetings, and into the wild. This trail features many of the native plants, but also some transplants, and offers some beautiful contrasts in foliage. Once I got up the canyon and crested onto the hill I met up with the Owen's Loop trail and was back into the normal Southern Utah flora.
I passed quickly along on this single track trail enjoying the blooming wild flowers and cacti. The trail was well packed and provided easy hiking. What I found interesting on this hike was how quickly I felt like I was away from the bustling world, but all I had to do was look around me and I could see civilization surrounding me. It was quiet on that Saturday morning and it provided a serene and peaceful trip for me. I took a look over the edge at the first look out before heading up the trail on the one section that takes you away from the cliff's edge. As I passed up through the cut in the rock I was a little surprised to see several natural arches and a natural rock over-hang that had rocks piled around the opening as if to close it off from the elements. I have seen this before in Anasazi Indian ruins, but I'm not sure if this is authentic, or just rocks that have been stacked by passers by throughout the years. Either way, it was kind of fun to see.
There were a couple of places where the trail became a little unclear, but after looking out for the cairns I was able to get back on course. The trail zipped around and moved me back closer to the edge of the cliff again. It was fun to be back to see where I was in relation to the city below me. I was surprised at how quickly I was moving along. There was plenty to look at and admire in the way of rock formations and plants, so it is no wonder the trail was passing so quickly by. As I approached the west rim of the hill I was presented with a delightfully clear view of Red Mountain and Santa Clara and Ivins.  I could also see the contrasting red and white Navajo Sandstone of Snow Canyon and the monolithic blue mountain Pinevalley.  As I continued around the loop I was looking over onto Red Hills Golf Course. So many contrasts, so many colors! Who knew there was so much waiting for me on this short little trail?
As I looped back around and headed for the truck I couldn't help but feel feelings of gratitude for such a beautiful place to live, and great little escapes 500 ft above the city where I could feel away from it all and yet be surrounded by it all!  Now you go out and enjoy it and leave your comments below!
Until next time…Remember, your next adventure is just out your door!
ABOUT THE AUTHOR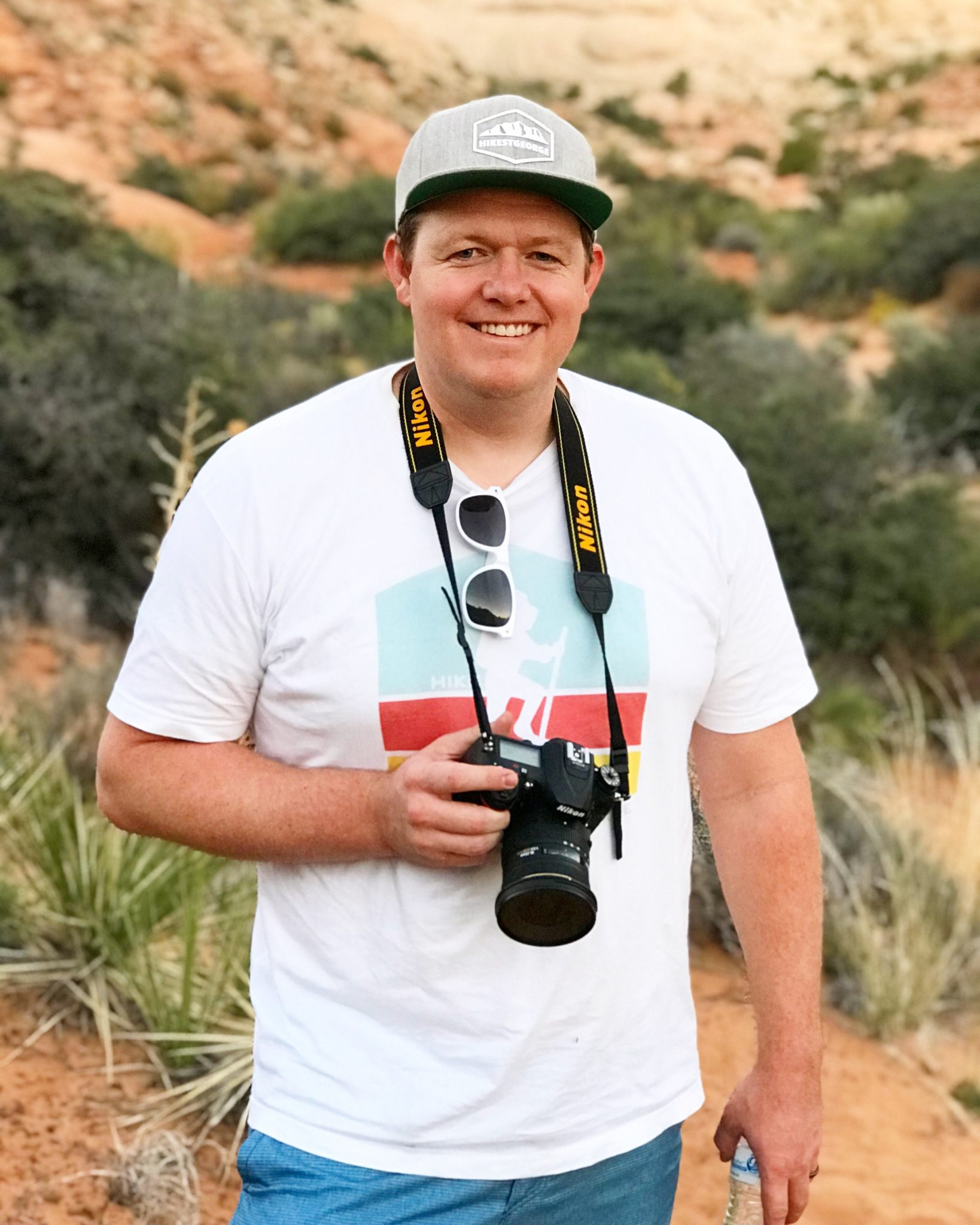 Tim LeBaron
HikeStGeorge is a project that began as a seedling for Tim LeBaron in the early part of 2008, but really didn't begin to blossom until the latter part of 2011. The original idea behind the site was to bring to light all of the harder to find, or "less known" hidden gems of the area. It was more of a pet project than anything. As excitement about the site began to spread, there was more of a push to develop information about all hikes in the Southern Utah Region.