KOLOB ARCH VIA LEE PASS, ZION NATIONAL PARK
Difficulty Level: Strenuous
Distance: 14.5 miles
TRAIL SUMMARY
If you are (or have been) among the almost 3 million yearly visitors to Zion National Park and have not seen Kolob Arch then you have truly missed one of the most incredible hikes and landmarks in the western hemisphere.  Kolob Arch hides in the most northwestern part of Zion National Park in the Kolob Canyons District.  Long debated as the world's longest free-standing arch, Kolob Arch has certainly gained a reputation for being one of the most impressive arches!  In 2006, The Natural Arch and Bridge Society re-measured the arch and found it to be 287.4 ft long – just 3 ft short of the record holding Landscape Arch in Arches National Park.
TRAIL DETAILS
DIFFICULTY LEVEL
Strenuous
ROUND TRIP LENGTH
14.5 miles
AVERAGE HIKE TIME
8-10 hours
PROPERTY MANAGEMENT
Zion National Park
DISTANCE FROM ST GEORGE
37 miles
RESTROOM FACILITIES
Flushing Toilets at Ranger Station/Lodge
HIKE TYPE
Out & Back, Overnight Backpack
BEST TIME OF THE YEAR TO HIKE
Spring, Summer, Fall
BEST TIME OF THE DAY TO HIKE
Morning, Afternoon, Evening
PERMIT INFORMATION
Permit Required
WATER SOURCES AVAILABLE
Water Available at Ranger Station/Lodge, Stream/River Along Trail (Purify & Filter Before Drinking), Spring Available on Trail, Beatty Spring. Timber Creek (patches of standing water, some flowing water) La Verkin Creek (flowing)
CAMP SITES
Camping Available only in Designated Camping Area, 13 Reservable Campsites – no services. Some sites Hammock Friendly
TRAIL CONDITIONS
Dirt Single Track, Sandy
SUN EXPOSURE
Partial Sun Exposure
DIRECTIONS TO TRAILHEAD
Directions to Trailhead. Kolob Canyons is located at Exit 40 on I-15, 40 miles north of Zion Canyon and 17 miles south of Cedar City. The Visitor's Center at the mouth of the canyon marks the beginning of your adventure.  All visitors must pass through to show passes, pick up permits, and/or pay before entering.  A 5 mile drive up the scenic canyon will get your heart racing as you soak up the breathtaking views of the Kolob Fingers.  The contrasting colors on the red Navajo Sandstone create a landscape unlike any other in the world!  The Lee Pass Trailhead is on your left toward the top of the hill.  Park your car in the stall and get ready for the time of your life!
FLORA AND FAUNA
Plants: Typical plant life for Southern Utah lowland hiking.
Animals: Typical animal life for Southern Utah lowland hiking.
TRAIL REPORT
Starting at Lee Pass presents the hiker with a pretty immediate descent of about 500 ft. The rest of the 250 ft descent is more gradual and easier on the knees. Despite the discomfort of such a quick drop, the views are spectacular as you pass by some of natures most impressive sandstone giants – the Kolob Fingers. The trail is a single track path that is fairly steep and at times the footing is loose, so be careful coming down the first mile or so on the trail. At this point in the hike you have conquered the strenuous portion (of course until you head back up) of the trail. You are now walking through hallowed ground…at least that's how it feels to me every time I go on this hike.  The air is still and peaceful, you hear the chirping of birds in the distance, and everyone hushes. As you look around you your soul swells with reverence and awe at the sandstone edifices jutting out of the ground. The cottonwood and pine trees around you add to the beauty of the experience and the chutes of green grass and wild flowers popping from the ground let you know that you have stepped into another land. The single track before and behind you are the only indication that another man has been here before you…
Sounds incredible right? Well it is…and more. You are leaving the all water sources for a couple of miles until you reach La Verkin Creek, so if you need water, time to fill up (and make sure you use a purifier!). There is a slight uphill as you come around Gregory Butte (one of the Kolob Fingers). As you crest the hill you are pretty much smack dab in the middle of the hike, and it gives a vantage point to see the fingers and a teaser of what is ahead of you. This truly is country that no one can even imagine unless they get out on the trail and see it themselves! Now you are headed down the last real downhill stretch. At the bottom of the hill you will find La Verkin Creek and a great place to cool off if you happen to be hiking in the warmer part of the day. You will follow the creek for the rest of the hike until you meet up with the Kolob Arch Trail. This part of the trail presents a new task – hiking in the sand. There are just a couple of short stretches where you have to hike in the sand, but be prepared as sand in the shoes tends to help rub blisters. Make sure you clean out your shoes very well, and pack some moleskin/duct tape just in case.
As you hike along and look around you, you notice that your surroundings have totally changed. The plants and trees are different, and the views have gotten even more spectacular. You're passing 4, 5, and 6 campsites now – that means you are getting close. If you are staying overnight and you can't get a 7-10 campsite, then these are ideal. In fact, I prefer them because you don't have to carry your pack in as far – you can leave it there while you go check out the arch and then pick it up on your way out. As you pass through the valley, pay close attention to your surroundings. If you are lucky you will see some wild turkeys as well as other animals. Most people that frequent the arch report having at least seen the turkeys. You're coming up on the 7-10 camps now. If you need water and want fresh spring water you can fill up at Beatty Spring which is just between campsites 10 and 11.
Follow the Kolob Arch Trail up the canyon for approx .5 miles and when you get to the viewpoint just look up. At first you will wonder where it is, and then you will wonder how you missed it! Ta-da! One of the world's longest free standing arches – and now you have seen it! Again, you are struck with awe at the incredible wonders of this earth. You have experienced something that few on this planet have or ever will. Consider yourself blessed! Now gear up for the trip back up. The hike back to your car will be much like the trip to the arch, except for the last mile. That mile will try and test you more than you think you can bear if you are only in fair shape. But, if I, as a 12 yr old blubbery boy could do it, I know you can too. My first experience with that hill made me think I was a gonner, but I've done it may times since then and enjoy it as a challenge to be conquered.
Until next time…Remember, your next adventure is just out your door!
ABOUT THE AUTHOR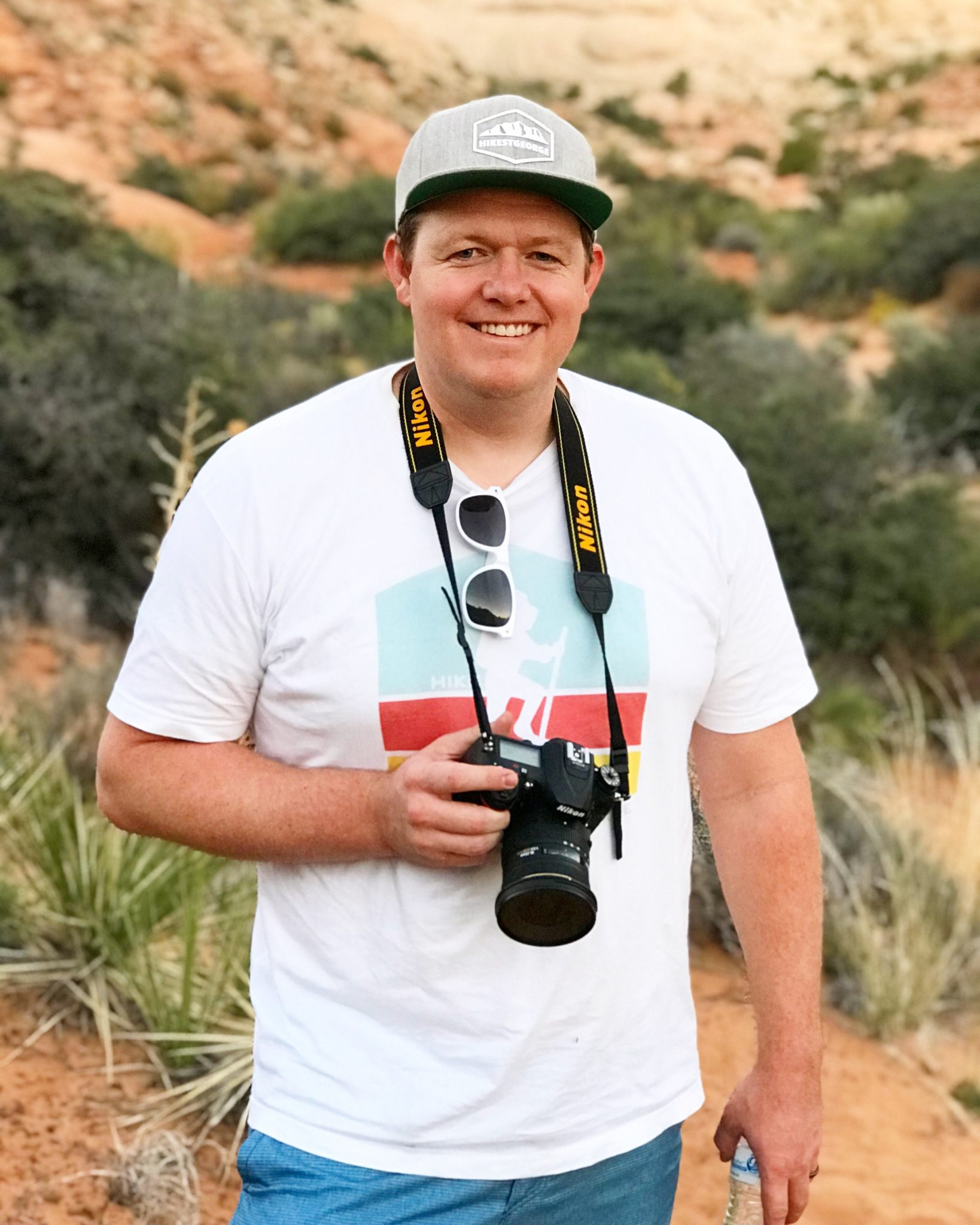 Tim LeBaron
HikeStGeorge is a project that began as a seedling for Tim LeBaron in the early part of 2008, but really didn't begin to blossom until the latter part of 2011. The original idea behind the site was to bring to light all of the harder to find, or "less known" hidden gems of the area. It was more of a pet project than anything. As excitement about the site began to spread, there was more of a push to develop information about all hikes in the Southern Utah Region.