LITTLE BLACK MOUNTAIN PETROGLYPHS SITE
Difficulty Level: Easy
Distance: 1 mile
TRAIL SUMMARY
The Little Black Mountain Petroglyph site is located south of St. George on the Arizona Strip and features an easy hike around sandstone boulders covered in ancient petroglyphs. The hike is easy and short making it great for those who want to get out of the city without getting too dirty or being gone too long.
TRAIL DETAILS
DISTANCE FROM ST GEORGE
13.9 Miles (30 minutes driving)
RESTROOM FACILITIES
Vault Toilets at Trailhead
DOGS ALLOWED
Yes, on 6 ft leash
BEST TIME OF THE YEAR TO HIKE
Spring, Fall, Winter
BEST TIME OF THE DAY TO HIKE
Morning, Afternoon, Evening
PERMIT INFORMATION
No Permit Required
WATER SOURCES AVAILABLE
No Water Sources Available
CAMP SITES
No Camping Available on Trail, Dispersed Camping Available
TRAIL CONDITIONS
Dirt Single Track
SUN EXPOSURE
Full Sun Exposure
DIRECTIONS TO TRAILHEAD
Directions to Trailhead. Follow River Rd. South until it turns in to a dirt road. Follow the dirt road for about 1/4 mile until you see the sign on the left that says "Black Mountain Petroglyph Site". Turn left. Follow the main dirt road for about 3 miles. Around 3 miles in you will see a dirt parking lot with a picnic table and an outhouse. This is Little Black Mountain. Be sure to stay on the main road and do not follow the many ATV and 4WD roads that jut off from the main road.
FLORA AND FAUNA
Plants: Typical plant life for Southern Utah lowland hiking.
Animals: Typical animal life for Southern Utah lowland hiking.
TRAIL REPORT
I made the short drive out to Little Black Mountain at the end of May and by then it was pretty hot. Be sure to bring plenty of water. There is no water at the site but there is a picnic table and bathroom.  The drive wasn't long, the road was a little rough but my 2wd truck didn't have any problems. I even saw a mini van out there. I arrived at the dirt parking lot sooner than I planned. The mountain itself is a small mesa with crumbly sandstone boulders breaking off of it. A lot of these are covered in petroglyphs, some very well preserved.
There is a groomed path for most of the area but I wouldn't say it's well maintained. Strollers and wheelchairs will have some difficulty out there. The area is a BLM property so it's federal land but it is free to get in.
I camped near the site and took a bunch of night photos. If you go just past the parking lot you will see a few free campsites. They are not maintained but have fire pits which people have built and are relatively quiet.
Overall this is a cool little hike. It's not intense and you can easily do it in an afternoon plus it's a great opportunity to learn a little about the area's previous people.
ABOUT THE AUTHOR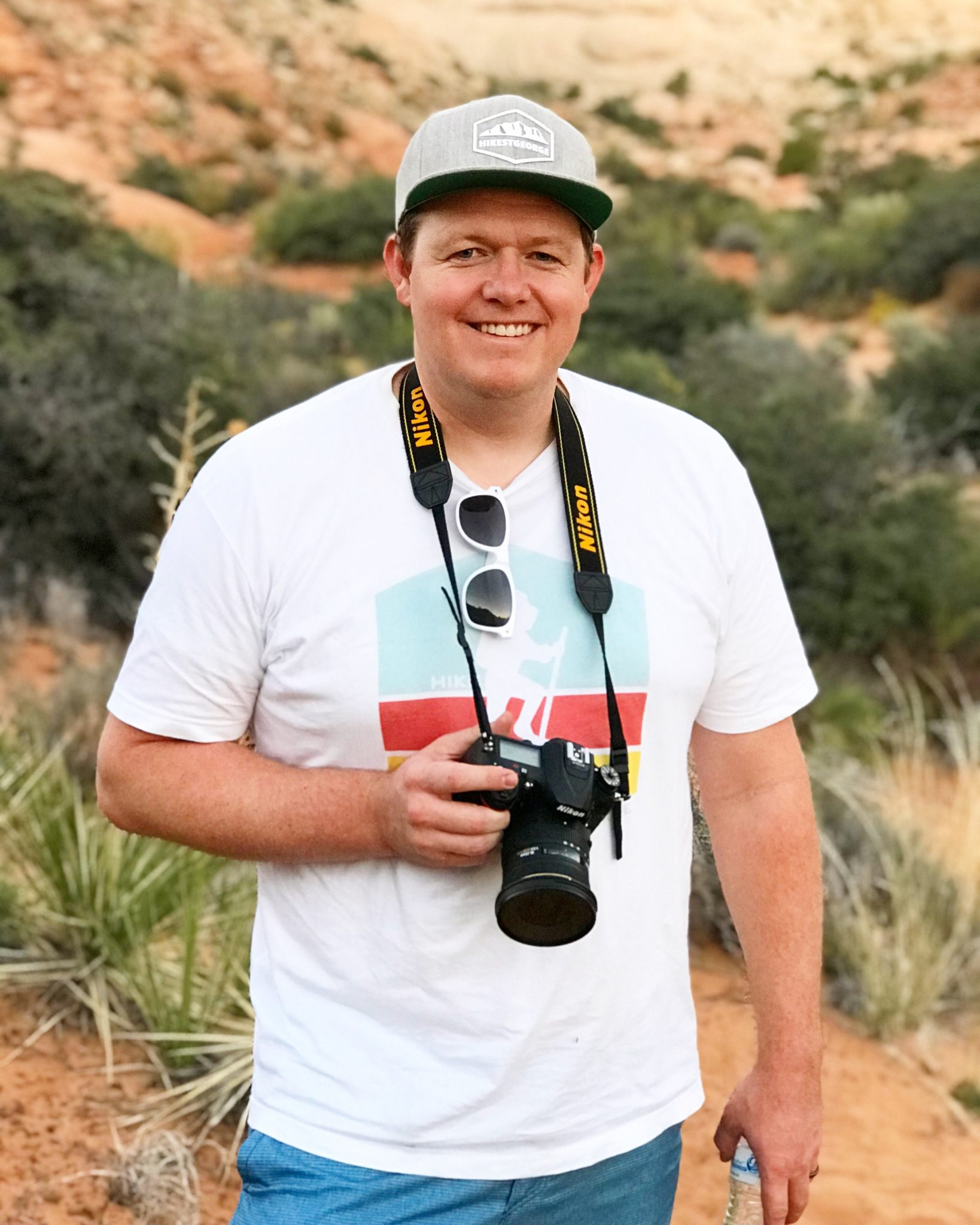 Tim LeBaron
HikeStGeorge is a project that began as a seedling for Tim LeBaron in the early part of 2008, but really didn't begin to blossom until the latter part of 2011. The original idea behind the site was to bring to light all of the harder to find, or "less known" hidden gems of the area. It was more of a pet project than anything. As excitement about the site began to spread, there was more of a push to develop information about all hikes in the Southern Utah Region.