JOHNSON CANYON – SNOW CANYON STATE PARK
Difficulty Level: Easy
Distance: 1.8 miles
TRAIL SUMMARY
This is a great hike for the whole family! It is an easy trail that passes through a lava flow field, dry stream bed, and into a canyon.  This hike allows great views of the Red Mountain and down through Paradise Canyon.  As you enter the canyon you will see a little spring down to the right and as you look up you will see a magnificent arch spanning 200 ft.  The canyon has alot of shade and is cool place to sit and have a picnic with the family.  This hike is there-and-back, so head back the way you came. Because of endangered habitat this trail is closed seasonally from March 15 – September 14. Check with Park Rangers for more details.
TRAIL DETAILS
ROUND TRIP LENGTH
1.8 miles
PROPERTY MANAGEMENT
Red Cliffs Desert Reserve, Snow Canyon State Park
DISTANCE FROM ST GEORGE
8.6 miles (14 minutes driving)
RESTROOM FACILITIES
Flushing Toilets at Ranger Station/Lodge
BEST TIME OF THE YEAR TO HIKE
Spring, Fall, Winter
BEST TIME OF THE DAY TO HIKE
Morning, Afternoon
PERMIT INFORMATION
No Permit Required
WATER SOURCES AVAILABLE
No Water Sources Available, Water Available at Ranger Station/Lodge
CAMP SITES
No Camping Available on Trail, Camping Available only in Designated Camping Area
TRAIL CONDITIONS
Dirt Single Track
SUN EXPOSURE
Full Sun Exposure
DIRECTIONS TO TRAILHEAD
Directions to Trailhead. From I-15 take exit 6 onto Bluff Street and head north toward Pine Valley Mountain for about 3.5 miles. Turn left onto Snow Canyon Parkway and continue about 4 miles.  Turn right on Snow Canyon Dr and follow this road for about 1 mile.  You will see a Trailhead on your right.  You can park on the left.
FLORA AND FAUNA
Plants: Typical plant life for Southern Utah lowland hiking.
Animals: Typical animal life for Southern Utah lowland hiking.
TRAIL REPORT
Hiking for me is a release, especially when I can get away early on a cool spring morning before the heat sets in.  It gives me a chance to wind down from the stress of my day job and worries of life, and allows me to see things clearly.  I don't know if it is the clean, fresh air, the beautiful surroundings, or the striking landscapes and carefully chiseled climbs.  Perhaps it is the closeness to God that I feel as I wander in creations that have been so perfectly organized! My favorite things to find are the secrets – the amazing things to see that are reserved only for those who got to seek them out. Snow Canyon boasts a high number of visitors each year, and many of them miss one of the greatest secrets the park holds.  Johnson Canyon houses Johnson's Arch – an arch that spans 200 ft.
Johnson Canyon is technically part of Snow Canyon State Park, but the trail head is actually before the ranger station.  The trail is closed half the year except to guided tours by a ranger as indicated above.  If you decide to go by yourself during the closed season, you are on your own. Shortly after we got on the trail we entered the lava flow field.  The trail is actually really good in this section, but if you are pushing a stroller you will want to have some help getting through it.  When I was a young teenager I remember briefly glossing over geology in my science class.  One thing I remember learning about was volcano's. I am fascinated by the process that takes place as the flow of hot molten magma, pouring from beneath the surface of the earth, covers the existing landscape and begins to cool and eventually harden. The charred, scarred earth has been changed forever. But, eventually, after a few years, there is new growth and the 'new earth' starts to be beautified again. The evidence of this process can be seen as you cross the lava field on your way to Johnson Canyon. In fact, it can be seen in several places in Snow Canyon, as well as the surrounding area. Thanks to the many (now dormant) volcano's in the area, there is much evidence of volcanic activity.
Ok, enough about my junior high geology fascinations…needless to say, you cross the lava flow and enter a stream bed that rarely sees water. In fact, unless it is a particularly wet year, you probably won't see any water in the stream.  As you move forward and gain some altitude, the landscape opens up and you can see over to the Paradise Canyon development, Santa Clara, Ivins, the Red Mountain, and much more. More immediately to the right there is what looks like would be a fantastic water fall (if the water were running in the stream) and the rock that looks like an ogre with one eye shut and rocks in his mouth.
Continuing on, we came up around the bend and there was a sound of water dripping and running. As we got closer I could see, down to our right, an iron pipe sticking out of the side of an embankment. There are green plants hanging to the side of the hill and water running out all around. It is a natural spring, but I haven't been able to find any more information about it, so if you decide to fill your canteen, make sure you use some kind of filtration or water purification.  After passing the spring, look up to the right as you walk along. Presently you will look up and see skylight coming through the arch that is opening before you. It is truly a rare give to be able to be so close to such a splendid spectacle. This window, cut into the red rock, is a well sculpted masterpiece that I am grateful to have had the chance to see. I tend to feel a sense of awe each time I see an arch like this. I know that there was a lot of time spent chiseling away by wind, water, ice, and other forces. Eventually the lower rocks gave way, and the sedimentary grains of sand that form this beautiful rock were able to take the strain and pressure that was put on them to hold up, and have been doing so for hundreds and thousands of years! Very cool indeed!
Now, if you're with your family, on a date, or just taking a walk, this is a great place to stop for a picnic. You can continue up the trail a little to find plenty of shade and places to sit to have a nice lunch.  If you don't have any food that's ok too. You can sit down and enjoy the peaceful sounds of nature, and quiet. Once you decide to head back, but follow the trail back the way you came and you'll find your car.  Thanks for joining me on this one!
Until next time…Remember, your next adventure is just out your door!
ABOUT THE AUTHOR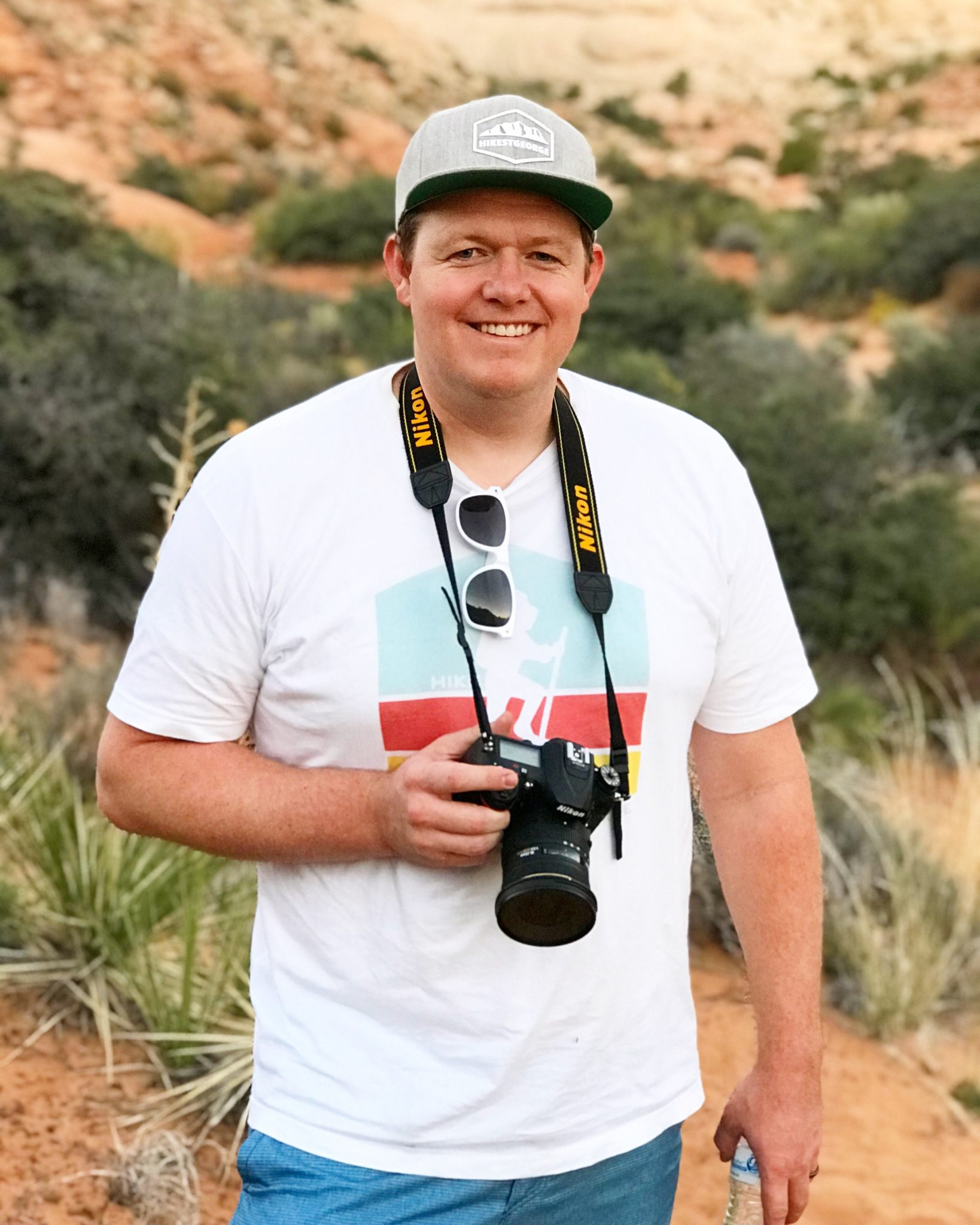 Tim LeBaron
HikeStGeorge is a project that began as a seedling for Tim LeBaron in the early part of 2008, but really didn't begin to blossom until the latter part of 2011. The original idea behind the site was to bring to light all of the harder to find, or "less known" hidden gems of the area. It was more of a pet project than anything. As excitement about the site began to spread, there was more of a push to develop information about all hikes in the Southern Utah Region.