WHITEROCKS AMPHITHEATER TRAIL – Snow Canyon State Park
Difficulty Level: Moderate
Distance: .4 miles
TRAIL SUMMARY
The White Rocks hike in Snow Canyon State Park is a great, family friendly, short hike that features some beautiful views, impressive petrified white sandstone mountains, and a great sand hill for kids of all ages to play in.  This hike is not stroller friendly, but it is short enough that you should be able to get away with carrying a child.
TRAIL DETAILS
DIFFICULTY LEVEL
Moderate
ROUND TRIP LENGTH
.4 miles
AVERAGE HIKE TIME
0.5-1 hours roundtrip
PROPERTY MANAGEMENT
Red Cliffs Desert Reserve, Snow Canyon State Park
DISTANCE FROM ST GEORGE
11.6 miles (16 mins driving)
RESTROOM FACILITIES
Flushing Toilets at Ranger Station/Lodge
BEST TIME OF THE YEAR TO HIKE
Spring, Fall, Winter
BEST TIME OF THE DAY TO HIKE
Morning, Afternoon, Evening
PERMIT INFORMATION
No Permit Required
WATER SOURCES AVAILABLE
No Water Sources Available
CAMP SITES
No Camping Available on Trail, Camping Available only in Designated Camping Area
TRAIL CONDITIONS
Dirt Single Track, Slick Rock, Sandy, Rocky
SUN EXPOSURE
Full Sun Exposure
TRAIL PHOTOS
LOCAL SERVICES
DIRECTIONS TO TRAILHEAD
Directions to Trailhead. From I-15 take exit 6 onto Bluff Street and head north toward Pine Valley Mountain.  Bluff Street turns into Hwy 18 as you head up the hill. Continue up the hill about 8 miles until you see a little parking lot on the left side of the road.  This will be a few hundred feet past the north entrance to Snow Canyon State Park.
FLORA AND FAUNA
Plants: Typical plant life for Southern Utah lowland hiking.
Animals: Typical animal life for Southern Utah lowland hiking.
TRAIL REPORT
This trail caught my eye a few years ago when I was actually house-sitting for a friend in Diamond Valley. It was early January and the cold and moisture decided to get together that year and laid a glistening blanket of snow on everything north of Winchester Hills.  I had passed the pull out for the hike many times and had wanted to investigate, but had never taken the time. Since I had some time off work, and was staying so close by I decided the opportune time had presented itself. Snow Canyon was a site to behold…the white snow on red hills presented an even more striking contrast than the present white and red rocks. The landscape I had seen so many times had been transformed to an even more splendid beauty! This was the scene when I decided to check out White Rocks for the first time.
This visit, although lacking the moisture aspect, was no less spectacular than that first visit years ago. The trail begins by quickly passing across a lava field and then a stream bed. We hooked around to the right when we got to the junction of the White Rocks and Lava Tubes trails. As you near the white rock edifice it looks like the trail splits, but by keeping a sharp eye out, we noticed that the trail actually heads to the left, and is blocked to the right. We easily mounted the white sandstone rocks and moved our way west to our desired destination. At certain times of the year there will be water trickling down a natural trough in the rocks (this time around there was no running water). As we followed up the dry stream bed we came to a place where I can imagine old time cowboys stacked up rocks across the divide to create a dam to preserve water run off for their cattle and horses. The rocks are still there, and although there was no water in the hold, the dam is still in place and should always remain there as a monument to the hard work of those that came before.
Up to the right we saw a huge sand hill – one that would rival the sand hill at Lake Powell (those who have been there know what I am talking about). It is all white sand with a small hint of rustic red on the left side where the water trickles down. Up to the left is more climbing if you get ambitious. We decided to stretch our legs a little bit more and see what there was to see. We climbed to the top of the closest white ridge, and were gratified with a magnificent view of the north parts of Snow Canyon. It was a great reward for a calf burning climb! From the top we headed back east to find a slightly less steep area to make our way down. We returned the way we came and finished the hike feeling satisfied at another brilliant trek in the great outdoors.
Until next time…Remember, your next adventure is just out your door!
ABOUT THE AUTHOR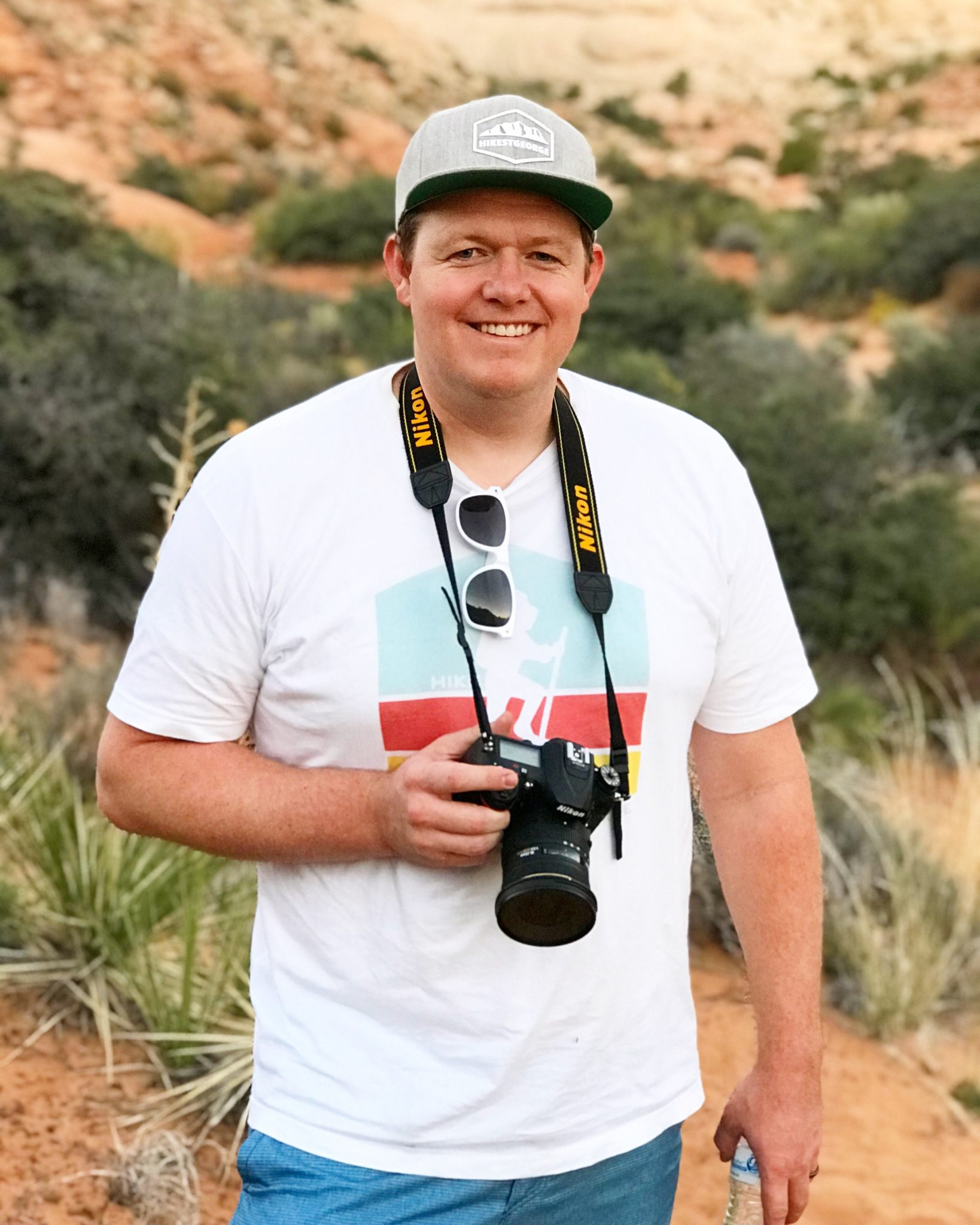 Tim LeBaron
HikeStGeorge is a project that began as a seedling for Tim LeBaron in the early part of 2008, but really didn't begin to blossom until the latter part of 2011. The original idea behind the site was to bring to light all of the harder to find, or "less known" hidden gems of the area. It was more of a pet project than anything. As excitement about the site began to spread, there was more of a push to develop information about all hikes in the Southern Utah Region.