ELEPHANT ARCH TRAIL, WASHINGTON, UT
Difficulty Level: Moderate
Distance: 3.8 miles
TRAIL SUMMARY
The Elephant Arch trail is a stone's throw from Washington city, but you wouldn't ever know it was there. Access to the trail is a little tricky, and I definitely recommend doing this in a truck or SUV, but once you get there it is an easy trail. The first half of the trail is easy walking along a dirt road, and the you meet a wash that is pretty sandy. The rest of the hike is fairly sandy. Because of the sand, this trail is not super family friendly, but if you can pack the kids, or if they can walk the distance it's not too bad. Typical low land desert landscape, lots of red rocks, and a cool arch at the end that does strangely look like an elephant's trunk! Worth every sandy step!
TRAIL DETAILS
DIFFICULTY LEVEL
Moderate
ROUND TRIP LENGTH
3.8 miles
AVERAGE HIKE TIME
2 hours roundtrip
PROPERTY MANAGEMENT
Red Cliffs Desert Reserve, SITLA
DISTANCE FROM ST GEORGE
6.5 miles (16 min. Driving)
RESTROOM FACILITIES
No Restroom Available
DOGS ALLOWED
Yes, on 6 ft leash
BEST TIME OF THE YEAR TO HIKE
Spring, Fall, Winter
BEST TIME OF THE DAY TO HIKE
Morning, Afternoon
PERMIT INFORMATION
No Permit Required
WATER SOURCES AVAILABLE
No Water Sources Available
CAMP SITES
No Camping Available on Trail
TRAIL CONDITIONS
Dirt Single Track, Sandy, Rocky, Dry Wash
SUN EXPOSURE
Full Sun Exposure
DIRECTIONS TO TRAILHEAD
Directions to Trailhead. From St George, head north on I-15 for about 9 miles and take exit 10 to Washington. Turn left onto Green Springs Drive and take an immediate right onto Buena Vista Blvd. Follow Buena Vista for about 1 mile and turn left onto the dirt road immediately after the fire station. Follow this dirt road for about 1.2 miles and it will meet up with another dirt road that is heading north-south. Turn left onto this dirt road and follow it for about 0.6 miles and your will come to the gate and trailhead.
Like I said above, the access is kind of tricky. As Washington builds more neighborhoods this description may change, but until then you should be able to get there via these instructions.
FLORA AND FAUNA
Plants: Typical plant life for Southern Utah lowland hiking.
Animals: Typical animal life for Southern Utah lowland hiking.
TRAIL REPORT
 I love the red desert or Southern Utah. I have recently been learning about the early pioneers that settled the area, and for them I don't think the area was as much beautiful as it was harsh and barren. There was nothing easy about the lives they led. It was said among them that eventually this desert would blossom like a rose, and I believe it has. Now, ease and comfort are the main part of our lives, and the desert has become a beautiful thing to us, or at least it has to me! If only those early pioneers could see us now… If I could take them for a hike, this is one I would take them on, and let them just take in the beauty of this harsh area.
We left before sun up in order to keep from hiking in the heat of the desert sun. I could not find a map to the trailhead so I improvised, having learned beforehand the place where I would park.  I tried several routes, and was thwarted as new developments have caused dirt road closures. I was finally able to access the correct road and when we parked at the trailhead the sun was making its way up. The first part of the trail passes over a closed off dirt road. We plodded along, enjoying the views of the wild Navajo sandstone hills ahead of us at the base of the towering Pine Valley Mountain. After a quarter mile we branched off to the right and followed an adjoining road that was marked 'Bone Wash'. This road takes you past a small power substation and into Bone Wash.
Rains from a couple days previous had brought some water down the wash and we could see remnants of a small water flow that was quickly drying up. This part of the trail was very sandy, but despite our filling shoes, we carried on in anticipation of the arch. As we plodded along we passed through corridors of sandstone that were weathered and worn. I could tell that they had seen years of rain, wind, and likely flash floods that come barreling through once every few years. There were little sandstone pockets containing what was left of the last late summer shower.
We left the wash as it met with a small tributary on the right. The trail marker for 'Elephant Arch' spurred us on, although my explorative mind wanted to continue the journey up the wash when I looked and saw a small slot up a hundred yards. I told myself I'll have to explore the rest of Bone Wash another day – today I'm going to the arch! As we climbed up the hill out of the wash the trail beneath our feet solidified a little, which was a nice change from the sandy wash bottoms. We could feel that we were getting close as we continued our quick pace along the trail. We wound along and followed the trail up as it curved up toward some rock outcroppings. Up ahead in the distance we strained to see what looked like it might be our destination. As we scrambled closer we could see the shape more clearly. Having only seen a few pictures I had an idea of what I was looking for, and was not disappointed at all to see that the arch before me truly resembled an elephant's head and trunk! It was big enough walk under the trunk, and I could see its eyes where chunks of rock have fallen out from years of erosion! What a spectacle! We climbed around and took a few pictures of each of us sitting on our desert elephant, riding it along. We had a little snack, and then we were headed back to civilization.
We pushed even harder on the way back as the sun began to crest the hills that had hidden it so nicely.  The heat was on and we needed to hustle back! As the sun lit the hills surrounding us we enjoyed another view at the landscape that we had passed in the early morning light. The sage and creosote around us contrasted the red sand and the big blue mountain to the north of us. As we completed our journey I was grateful once again to live in such a beautiful place! This is a quick, easy, and little known about landmark that you should definitely check out!
Until next time…your next adventure is right out your door!
ABOUT THE AUTHOR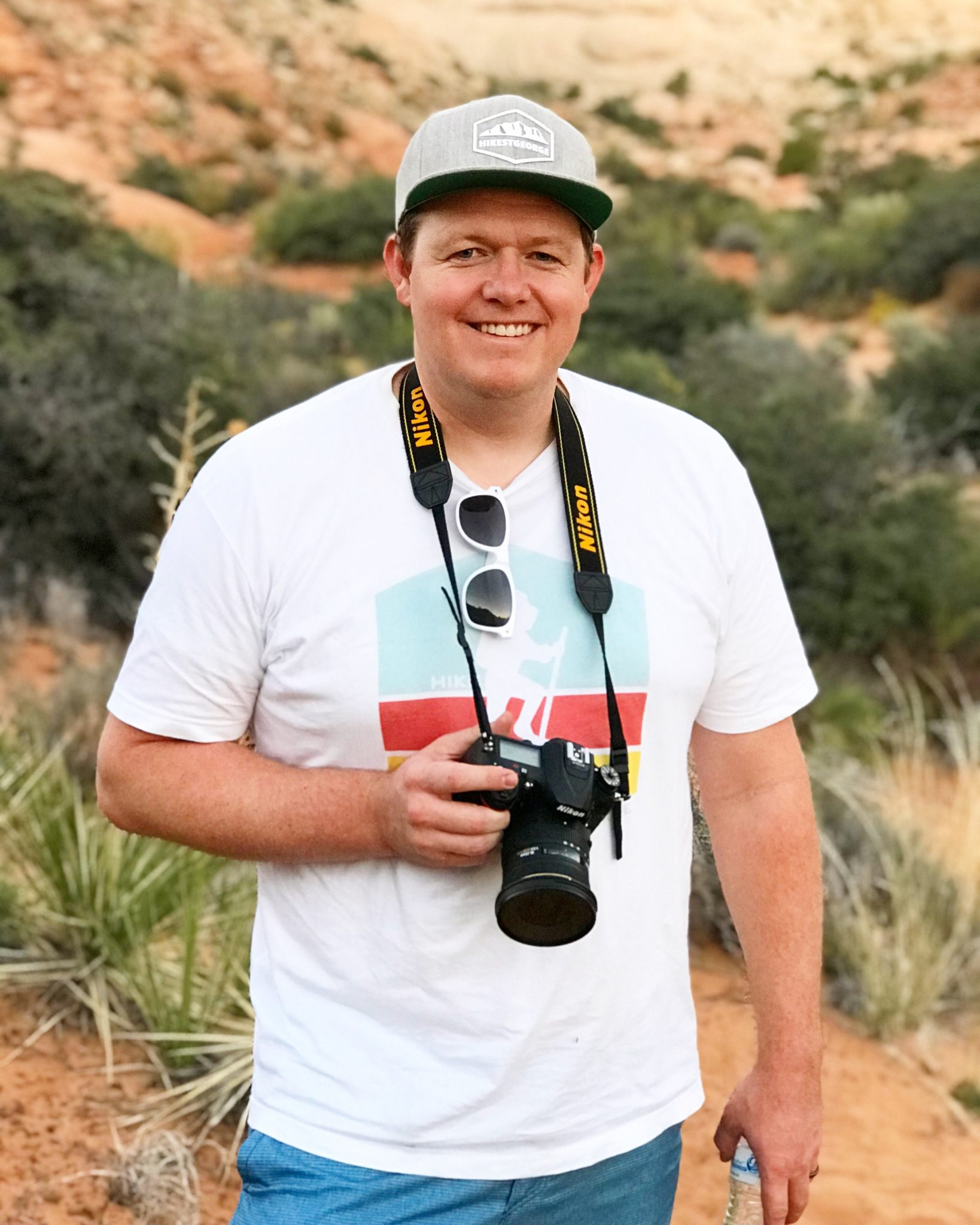 Tim LeBaron
HikeStGeorge is a project that began as a seedling for Tim LeBaron in the early part of 2008, but really didn't begin to blossom until the latter part of 2011. The original idea behind the site was to bring to light all of the harder to find, or "less known" hidden gems of the area. It was more of a pet project than anything. As excitement about the site began to spread, there was more of a push to develop information about all hikes in the Southern Utah Region.