YANT FLAT (CANDY CLIFFS) - Leeds, UT
Difficulty Level: Moderate
Distance: 2-7 miles (depending on how much exploring you do)
TRAIL SUMMARY
Yant Flat is one of Southern Utah's little gems that it seems you have to be from out of town to know anything about! This hiking trail takes you across a quick mile of lower forest at the base of Pine Valley Mountain, and then spits you out onto some of the most incredibly colored sandstone formations that exist on this earth! There are two main areas of exploration and you can easily spend a couple of days hiking across the candy like swirls.
TRAIL DETAILS
DIFFICULTY LEVEL
Moderate
ROUND TRIP LENGTH
2-7 miles (depending on how much exploring you do)
AVERAGE HIKE TIME
2-5 hours roundtrip (depending on how much exploring you do)
PROPERTY MANAGEMENT
Forest Service, Dixie National Forest
DISTANCE FROM ST GEORGE
27 Miles (50 minutes driving)
RESTROOM FACILITIES
No Restroom Available
BEST TIME OF THE YEAR TO HIKE
Spring, Fall, Winter
BEST TIME OF THE DAY TO HIKE
Morning, Afternoon, Evening
PERMIT INFORMATION
No Permit Required
WATER SOURCES AVAILABLE
No Water Sources Available
CAMP SITES
No Camping Available on Trail, Dispersed Camping Available
TRAIL CONDITIONS
Dirt Single Track, Dirt Double Track, Slick Rock, Sandy
SUN EXPOSURE
Full Sun Exposure
DIRECTIONS TO TRAILHEAD
Directions to Trailhead. From St George, head north on I-15 for about 13 miles and take exit 22 to Leeds/Silver Reef. Turn left onto Main Street and head north for about 1.5 miles. Turn left onto Silver Reef Rd and follow for 1.2 miles until it turns into a dirt road (Oak Grove Road) and continue for about 2 miles. At this point the road forks and there is a sign that says St George left and Oak Grove right. Head left toward St George. On a map this road is FR031. You will follow this road for about 7 more miles until you reach your destination on the left. (It is about 1.5 miles past Yankee Doodle Hollow Creek if you are looking on a map.) You will recognize the trailhead when you see a forest service road (FR903) head north on the right, and a little pull out just opposite on the left.  Pull into the left 'pull out' and this will start your trail journey!
FLORA AND FAUNA
Plants: Typical plant life for Southern Utah lowland hiking.
Animals: Typical animal life for Southern Utah lowland hiking.
TRAIL REPORT
My visits to Yant Flat have been akin to out of body experiences. You don't just visit Yant Flat and its Candy Cliffs, you experience it. You soak it in, and it changes you. I've mentioned many times that getting out on a hike and seeing the beauties around me brings me closer to God. Well Yant Flat was a list topper for me so far!

My first couple of trips to Yant Flat were prompted by some new friends who contacted me through hikestgeorge.com and mentioned they would be coming to the St George area to do some hiking and would love to have someone show them around. They said they would like to visit Yant Flat and not only had I had never been there, I had never heard of it. I quickly started doing some research and discovered (although information was limited) an incredible place that I HAD to visit. So, I took my brother (on one of the few stormy days in Southern Utah) and we set out to find this mysterious place. The rain, which had fallen all night, was not letting up like the weather channel said it would, and the road was getting more and more soupy as we approached our destination. As we pressed on with eager determination, we hit the patch of road about a mile before the turn out – yeah, the part that turns to clay, and we were zig zagging all over the road (even in 4-wheel drive). At this point, being mostly out of cell range, and in the back country, I had no intention of being stuck where no one could come get us until it dried out, so we marked the trailhead and hurried back to civilization.
My second trip was with my good friend Mark. The weather was drastically different when we went out in early October. It was turning out to be a nice clear day as we pulled up to the trail. The sun was just starting to think about coming up, and as we crossed over the forest area between the road and the cliffs it began to peek up over the cliffs of Zion National Park, which could be seen in a full panoramic view in front of us. Needless to say, it was beautiful! The first 3/4 of a mile of the trail is a nice hard pack old jeep trail that meanders through the juniper and high desert foliage. The final 1/4 mile before you get to the cliffs turns out to be pretty sandy, but we pushed through (definitely worth it!) and took the right fork of the trail that crested up on the sandstone rocks overlooking a wide expanse and canyon of the most incredible swirling colors of sandstone I had ever seen!

We explored the "west end" of Yant Flat for over an hour – bounding here and there to look at different formations and designs in the rock. The Navajo Sandstone was riddled with turtle back designs. This is the point where words lose their ability to adequately describe the spectacular experience we had. See the pictures for the "words can't tell" description. After running out of time, and wishing we had the whole day to explore, we decided we had better start heading back, but not before heading out on the left fork of the trail to quickly see where it went. I jogged the 1/2 mile to find another overlook to an overwhelming view of a playground that I knew I HAD to come back and check out.
My third and final (as of this post) trip to this candy play ground was with my new friends Nina and Jim. We followed the trail, and as we had both previously visited the right fork, we headed to the left and began our exploration of this incredible place. As we dropped down from the sand trail onto the sandstone candy swirls my friends took advantage of the many opportunities to take pictures, and I began to scamper around, exploring this new wonderland. There were 30 ft mounds of rock stacked up in little piles like a vanilla butterscotch twist. The colors swirled in and around the rocks just like salt water taffy. I could go on and on about this place, but you really have to experience it to get the full effect.

Not only was it hard for me to believe there were rock formations and patterns that are so amazing that I never knew about, I couldn't believe how much area there was that had these petrified dunes exposed. I felt like we could just keep going and going down the slope that heads toward Red Cliffs Recreation Area. As we explored down the ravine we came across a large puddle that had formed from the recent rains. It looked like a pond, but was only about 6 inches deep despite being about 75 feet long. The interesting thing about the water was it was churning as though there were thousands of little bugs moving about in it. Upon closer inspection we discovered there were tadpole shrimp swimming around. This was a first for me, and I was fascinated to sit and just watch them. They must burrow into the sand when the water dries up and then they come out and enjoy the water while it is there. Pretty cool little creatures.

After spending 5 hours exploring and taking our fill of pictures we decided we had better head back to town. I could spend more than 5 hours writing this post, but for the sake of the reader I will not. This was a spectacular journey and experience that I will remember very fondly. If you ever get the chance to visit Yant Flat give it a try! You will not be disappointed.

Until next time…your next adventure is right out your door!
ABOUT THE AUTHOR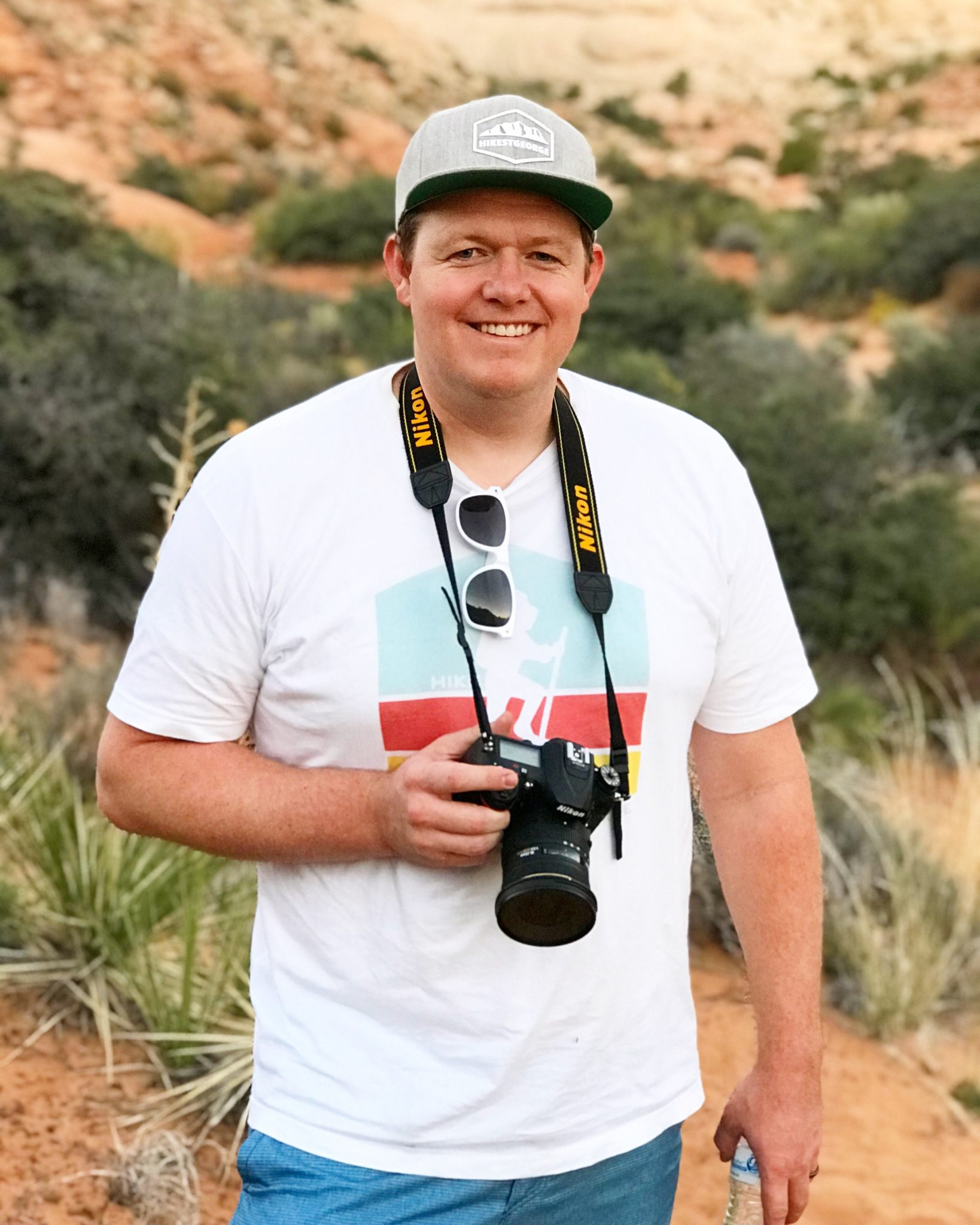 Tim LeBaron
HikeStGeorge is a project that began as a seedling for Tim LeBaron in the early part of 2008, but really didn't begin to blossom until the latter part of 2011. The original idea behind the site was to bring to light all of the harder to find, or "less known" hidden gems of the area. It was more of a pet project than anything. As excitement about the site began to spread, there was more of a push to develop information about all hikes in the Southern Utah Region.