THE BOWL, THE VORTEX – Dammeron Valley, UT, Gunlock, UT
Difficulty Level: Moderate
Distance: 2.16 miles
TRAIL SUMMARY
The Bowl near Lower Sand Cove is a moderate hike that features some beautiful views, a lot of plant life, unique Navajo Sandstone features, and bits of running water if you do it at the right time of year. This hike is not suitable for a stroller and is not young family friendly. For hikers that are looking for a moderate challenge with a rewarding journey it is definitely worth the trek. The trail crosses lava flows, sandy walkways, and red and white sandstone rocks. This is a well traveled trail. If you get off track, watch for the cairns and foot paths in the sand.
TRAIL DETAILS
DIFFICULTY LEVEL
Moderate
ROUND TRIP LENGTH
2.16 miles
AVERAGE HIKE TIME
1-1.5 hours roundtrip
DISTANCE FROM ST GEORGE
23.5 Miles (35 minutes driving)
RESTROOM FACILITIES
No Restroom Available
BEST TIME OF THE YEAR TO HIKE
Spring, Fall, Winter
BEST TIME OF THE DAY TO HIKE
Morning, Afternoon
PERMIT INFORMATION
No Permit Required
WATER SOURCES AVAILABLE
No Water Sources Available
CAMP SITES
Dispersed Camping Available
TRAIL CONDITIONS
Dirt Single Track, Slick Rock, Sandy
SUN EXPOSURE
Full Sun Exposure
DIRECTIONS TO TRAILHEAD
Directions to Trailhead. From I-15 take exit 6 onto Bluff Street and head north toward Pine Valley Mountain.  Bluff Street turns into Hwy 18 as you head up the hill. Continue up the hill about 18 miles. As you pass through Dammeron Valley there is a dirt road on the left that meets the highway diagonally.  Turn left on this road and follow it for 5 miles past Upper Sand Cove Reservoir.  You will pass what looks like an old abandoned building on the left.  About a hundred yards past the building there is a left hand turn off just before a ditch with running water. Pull in and find a place to park and enjoy the hike!
FLORA AND FAUNA
Plants: Typical plant life for Southern Utah lowland hiking.
Animals: Typical animal life for Southern Utah lowland hiking.
TRAIL REPORT
The late winter has made for a very beautiful Southern Utah late spring this 2014 year! Every hike I have done this spring has greeted me with blooming wild flowers and cacti, long green grasses, and emerging life at every turn. I did this hike early on a Saturday morning before the heat really came on and its a good thing too, because I fell prey to one of the classic hiking blunders – I didn't carry any water with me. One of the most dangerous things you can do in the Southern Utah wilderness is get hoodwinked into believing that because it is cool you do not need water. Number one outdoor rule – STAY HYDRATED!
Off my soap box – on to the hike! We left the truck at the edge of a gully in the parking area. We saw one of the vans from The Biggest Loser Resort and knew that we would not be alone on the trail. (Sometimes I prefer the solitude on a hike, but have to always remind myself that it is not a bad thing to see people when you hike, because if anything bad were to happen they may be the ones who save your life, or send in the ones to save your life!) As we headed down the lava rock maze, our eyes were met with a spectacular view of a mix of red and white Navajo Sandstone petrified dunes ahead of us – some as tall as a few hundred feet. We crossed the dry creek bed and head up into the sand on the opposite bank and followed the trail until we were crossing over sandstone. One of the great things about hiking in higher elevation is the delay in the season. All the wild flowers that finished blooming a few weeks ago in St George were blooming here – almost 1000 ft higher. The cacti were blooming, and all the new growth was just budding out and saying hello to the world again.
After trudging through another short stint of sandy path we were back on the sandstone, following another small, dry stream that, when running, would send water down the red rock, from pool to pool. We continued to press on the steepening hill side and could see the hill top that was our quest up to our right. We pressed forward, determined to reach the top, and passed by a string of hikers from the Resort. We exchanged pleasantries and continued on. This part was the steepest and most physically taxing portion of the trail. It had me breathing hard and reminded me that I had forgotten to carry any water. Fortunately for me, our upward climb was over. once reaching the top of this sandstone edifice my breath was taken away again – not from the hike, but from the view! I gazed off into the distance toward Gunlock, and could see for miles and miles beyond it to the west. Looking to the east revealed rolling hills, red and white rocks, green plants, black rocks, and so much more.
After a few pictures and a quick breather we began searching for The Bowl. There are a few places on the top of these rocks where it is obvious the water had been caught in bowl type catches, but none as impressive as the 50-60 ft deep sandstone bowl that swirls around just like a toilet bowl. We climbed down inside and saw the evidence of at least 100 people leaving their mark in the bowl. There were names carved there in this secret place from 50-100 yrs ago. Many of the names belong to local ranching families who have run cattle in the area for decades. Their names carved in the stone reminded me of the legacy they have left, and the harsh elements they endured as they pioneered this area.
As the time came to head back to the truck we chose to take a more direct route back in the interest of getting re-hydrated. I don't recommend following the route we took back, unless you are a confident slick rock hiker. There were several steep areas we climbed down and the trail that we came up is much safer. As we got to the bottom we scampered across the rocks and made our way quickly back to the truck and some refreshing water. As we moved along we passed under the shadow of a tall, dead tree that a wood pecker was pecking into. That was a fun treat to see and hear that. Our adventure ended as we topped the rim of the lava bluff and returned to the truck.
Until next time…Remember, your next adventure is just out your door!
ABOUT THE AUTHOR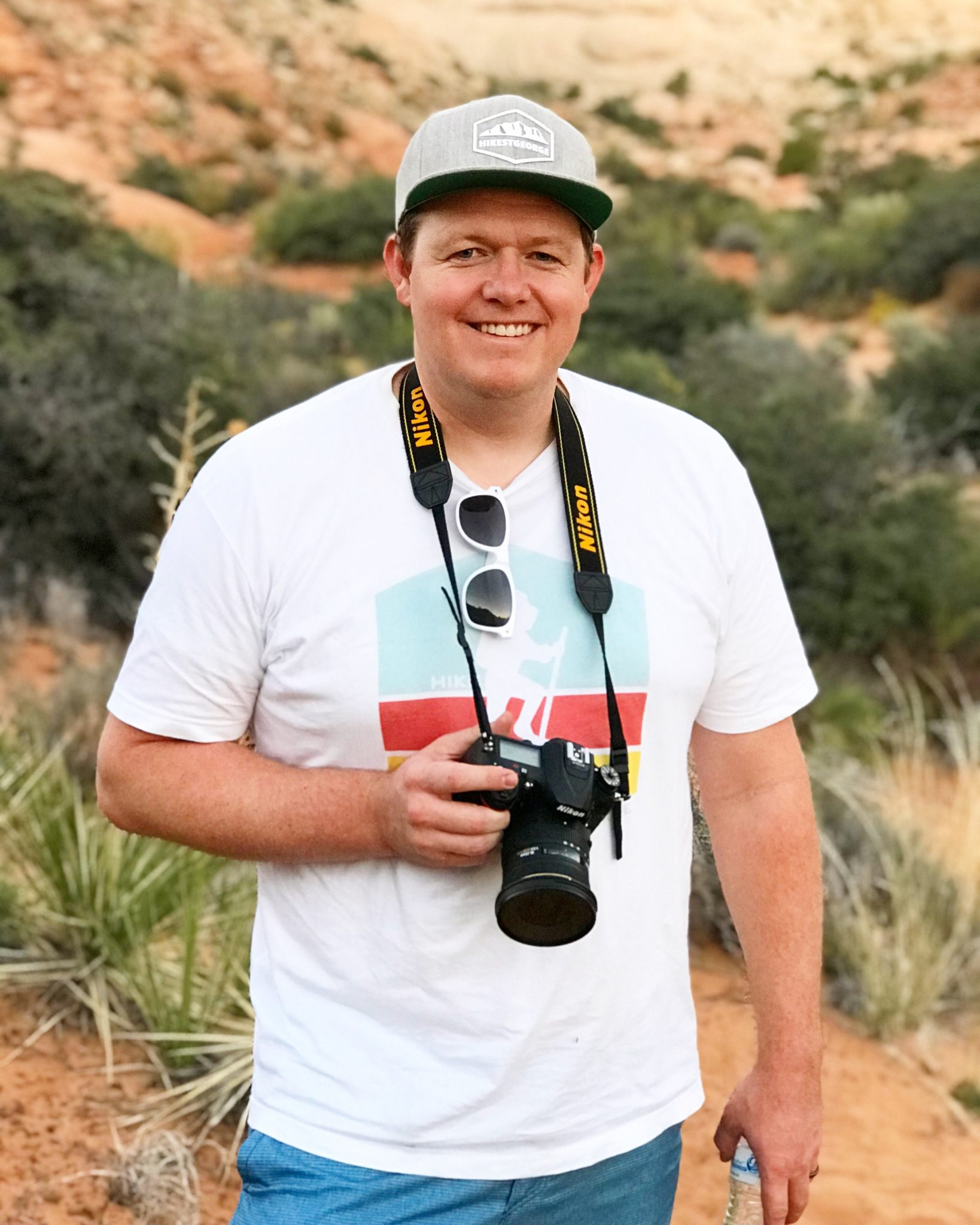 Tim LeBaron
HikeStGeorge is a project that began as a seedling for Tim LeBaron in the early part of 2008, but really didn't begin to blossom until the latter part of 2011. The original idea behind the site was to bring to light all of the harder to find, or "less known" hidden gems of the area. It was more of a pet project than anything. As excitement about the site began to spread, there was more of a push to develop information about all hikes in the Southern Utah Region.